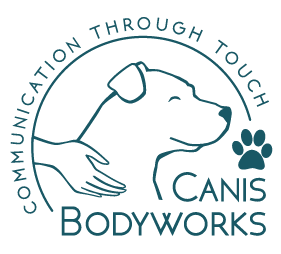 Start Learning Today!
Sports Massage & Fitness for the Active Dog: Online
Every dog is an athlete. Regardless of age and activity level, dogs are driven to move their bodies, and they will walk, run, jump, and move in any way possible to the best of their abilities. Just like human athletes, dogs can overdo activity, even when they are uncomfortable, sore, or feeling pain because of joint disorders, muscle pathology, and disease. Dogs will also overdo it simply because they are willing to please, and we may not recognize when they've had enough.

In this online course, students learn the important components of canine fitness, which include learning basic canine structure, understanding how to gauge the ability level of each dog, and knowing how to recognize pain and fatigue. Demonstration videos focus on essential core exercises for strength, endurance, and flexibility. Students also learn the safe approach to stretching dogs as well as sports massage techniques appropriate for dogs of every ability. Techniques learned will ensure proper preparation before activity and adequate recovery after activity to enhance flexibility, reduce soreness, improve joint range of motion, and prevent injury.

This online course is appropriate for pet parents and canine professionals alike.

CE hours approved for NBCAAM.
Online | 6 Hours
Self-paced / No time limit
$125 USD
(Sale)
Includes all class materials
No Expiration
Ongoing access to content
What's included?
7 Modules

8 PDF Downloads

41 Videos

9 Massage Techniques

14 Fitness Exercises

6 Quizzes & 1 Final Exam

Certificate of Completion
Inspired to learn more?
Check Out Our Personal Enrichment Courses
Whether you're a pet parent or a canine professional, our continuing education and personal enrichment courses will enhance your knowledge and strengthen the relationship you have with the dogs in your care. Here are just a few...

Trust & Relationship-Building with Dogs
(Part 1)
Palliative/Hospice Care & Oncology Massage
Canine Massage 101: Techniques for Wellness
Canine First Aid Concepts & Pathology


Next Step...
Trust & Relationship-Building with Dogs
Part 1 of 2
Empty space, drag to resize
This online course is the first in our certification series and the first step on your canine massage journey. TRB Part 1 prepares you for Part 2, the in-class Trust & Relationship-Building with Dogs workshop where you'll get hands-on practice learning how to build trust with a variety of amazing dogs.

Not interested in certification right now? You can still take this online course! It's ideal for everyone who lives or works with dogs.

From the comfort of your home or office, this online course will lay the foundation for working hands-on with dogs who may be stressed, anxious, fearful, shy, or inadequately socialized.

The theories and techniques found in our Trust and Relationship-Building with Dogs course are at the heart of everything we do as therapists: if we don't effectively and respectfully interact with dogs to earn their trust, then massage and other bodywork modalities are not possible.

Created with