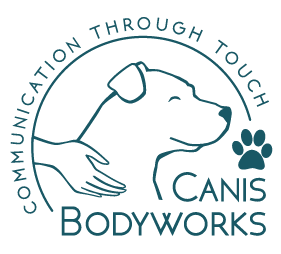 Advanced Continuing Education - Reserve Your Spot Today
Sports Massage & Exercise for the Canine Client: Workshop
Every dog is an athlete. Regardless of age and activity level, dogs are driven to move their bodies, and they will walk, run, jump, and move in any way possible to the best of their abilities. Just like human athletes, dogs can overdo activity, even when they are uncomfortable, sore, or feeling pain because of joint disorders, muscle pathology, and disease. Dogs will also overdo it simply because they are willing to please, and we may not recognize when they've had enough.

In this advanced workshop, canine massage practitioners will understand the importance of exercise and fitness for dogs and learn fundamental exercises that can be tailored to each dog's unique needs. Students will learn pre-, post-, and remedial sports massage techniques that benefit canine athletes as well as couch potatoes. Additional focus will be placed on how to passively and actively stretch and mobilize joints safely and effectively. Students will also learn how to recognize pain and dysfunction and understand when to refer to a veterinarian. The key to success with sports massage and exercise is pet parent involvement, so students will learn how to effectively teach pet parents at-home massage and stretching techniques along with exercises suitable for their dog's capability and fitness level.

This is an advanced Continuing Education course with the following prerequisites: Trust & Relationship-Building with Dogs (Parts 1 & 2), Canine Massage Fundamentals (Parts 1 & 2), and Physical Dog (Parts 1 & 2).

CE hours are available for NBCAAM.
Registration closes 1 week prior to Day 1 of each workshop
Course Dates
Chicago 2022
September 17-18

St. Louis 2022
October 29-30
Ontario, Canada 2022
Dates TBD


Continuing Education at Canis Bodyworks
Check Out Our CE Courses
Whether you're a pet parent or a canine professional, our continuing education courses will enrich the relationship you have with the dogs in your care. Check out our current offerings:
Applied Acupressure Fundamentals
Sports Massage & Fitness for the Active Canine
Canine Palliative/Hospice Care & Oncology Massage
There are more to come in 2022, too! Stay tuned!
Created with