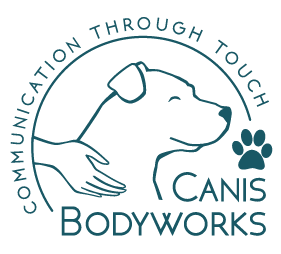 Start Learning Today!
Canine Palliative/Hospice Care & Oncology Massage: Online
How can we best support our canine companions when they are at their most vulnerable: during and after cancer, chronic illness, or injury, and at the end of life? In this online course, students learn approaches to palliative and hospice care that complement the care provided by a veterinarian. Students also receive an overview of canine cancer and learn how massage and bodywork may help as an adjunct therapy.

A blend of theory and demonstration videos, this course covers topics such as the unique needs of the palliative and hospice patient, cancer myths and types of canine cancer, and guidelines for working with cancer patients as well as with patients who have other health-related conditions that require palliative and/or hospice care.

Additionally, students learn about pet parent education and empowerment and working with other caregivers. Special emphasis will be placed on learning safe and effective bodywork techniques that can be used by pet professionals and pet parents alike.

This is a Continuing Education course that can be taken at any time. No prerequisites. Appropriate for pet professionals and pet parents alike.

CE hours are available for NBCAAM.
Course fee is in US Dollars (USD)
7 Modules

67 Lessons

39 Videos

24 Review Questions

Certificate of Completion
A Growing Population of Dogs
As the life span of dogs lengthens, there's more demand for practitioners who can meet the special needs of dogs who are nearing or at the end of life. Learn what it means to provide comfort care for dogs and their families, and fill your "toolbox" with techniques and ideas that support quality of life for the body, mind, and spirit.
Give the Gift of Touch
The massage and bodywork techniques you'll learn in this course are essential tools that every canine massage therapist should know. Learn how to use these fundamental and powerful techniques appropriately with dogs who are in palliative and/or hospice care, and become an integral member of a pet's care team.
Personal Enrichment Courses at Canis Bodyworks
Expand Your Skillset
Whether you're a pet parent or a canine professional, our personal enrichment and continuing education courses will enhance the relationship you have with the dogs in your care. Check out just a few of our current offerings:
More online classes coming soon! Stay tuned!
Created with