Our mission is to offer:
• Canine massage and bodywork workshops for everyone
• Elite instructors with years of experience in the field
• Unique content that's flexible and affordable
• Individualized hands-on instruction
Meet our instructors
Our certified instructors are fully qualified with extensive practical and specific knowledge of their fields.
Founder, Lead Instructor, LMT, CVMRT, NCCMT
Denise has been a licensed human massage therapist for over 30 years, and her experience working with animals stretches over 25 of those years. She is nationally certified in human massage through NCBTMB, she holds national certification as a canine massage therapist through NBCAAM, is certified in Pet First Aid and CPR, and is certified in Veterinary Massage and Rehabilitation Therapy through The Healing Oasis.

A graduate of Animal Sense Academy, now known as FetchFind Academy, and various programs in canine medical massage, Denise became a pioneer in the field of canine massage when she founded her canine massage business, Pet-ri-ssage Ltd., in 1998, providing therapeutic massage and teaching workshops. After 12 years of operating, she opened her dual practice Deeply Kneaded Therapeutic Massage, which cared for both 2-legged and 4-legged clients. She then established the Chicago School of Canine Massage (CSCM) in 2008. CSCM, now Canis Bodyworks LLC, has been an industry leader offering the most comprehensive hands-on program in the world.

Denise's background and experience as a human and canine massage therapist and educator, dog trainer, athletic trainer, and certified personal trainer (NASM) add a unique level of insight and precision to her work with the canine athlete and those with behavioral challenges. As canine bodywork and massage continue to evolve, Denise continues to learn about canine behavior and new techniques applying multiple disciplines to bring the most cutting edge bodywork education to the animal world.

Along with being lead instructor for Canis Bodyworks, Denise currently works in private practice as a canine massage therapist and as a veterinary rehabilitation therapist. Denise shares her home life with her wife Julie and 4-legged companions Lucy and Eos, along with the many foster animals who come into their care.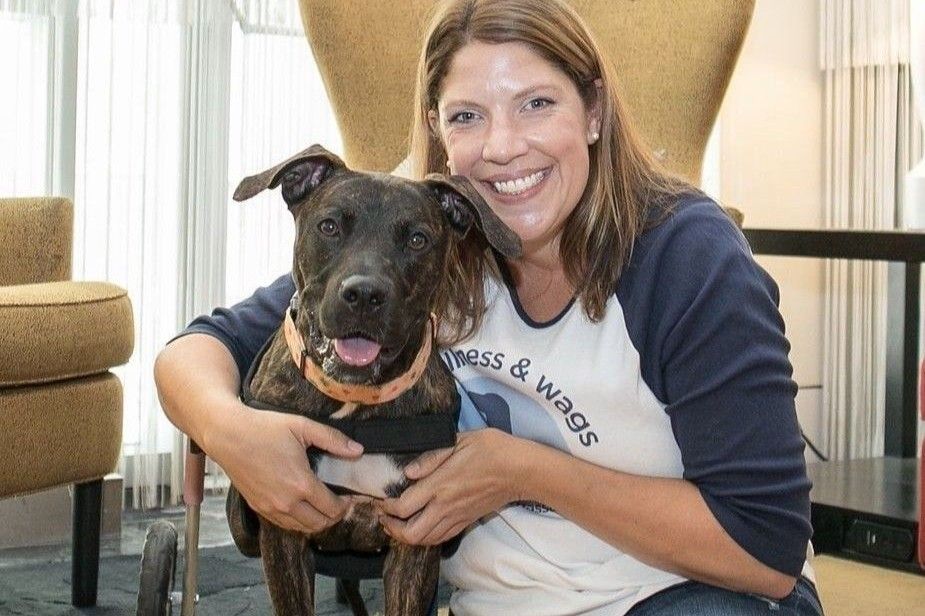 Instructor, NCCMT
Not too long ago, Caragh was working a corporate gig in advertising and daydreaming about dogs. But after adopting her shepherd mix Oscar, she was inspired to pursue her dream of a career focused on canine wellness.
Caragh received her certification in Canine Massage as well as Pet First Aid & CPR through the Chicago School of Canine Massage, and is nationally certified through the National Board of Certification for Animal Acupressure & Massage (NBCAAM). Caragh is also a certified Fear Free pet professional.

In 2017, Caragh founded her business Wellness & Wags, offering in-home canine massage therapy in the Chicago, IL area. She enjoys volunteering within the animal rescue community and loves to swim, read, and explore her neighborhood with her rescue dog Oscar.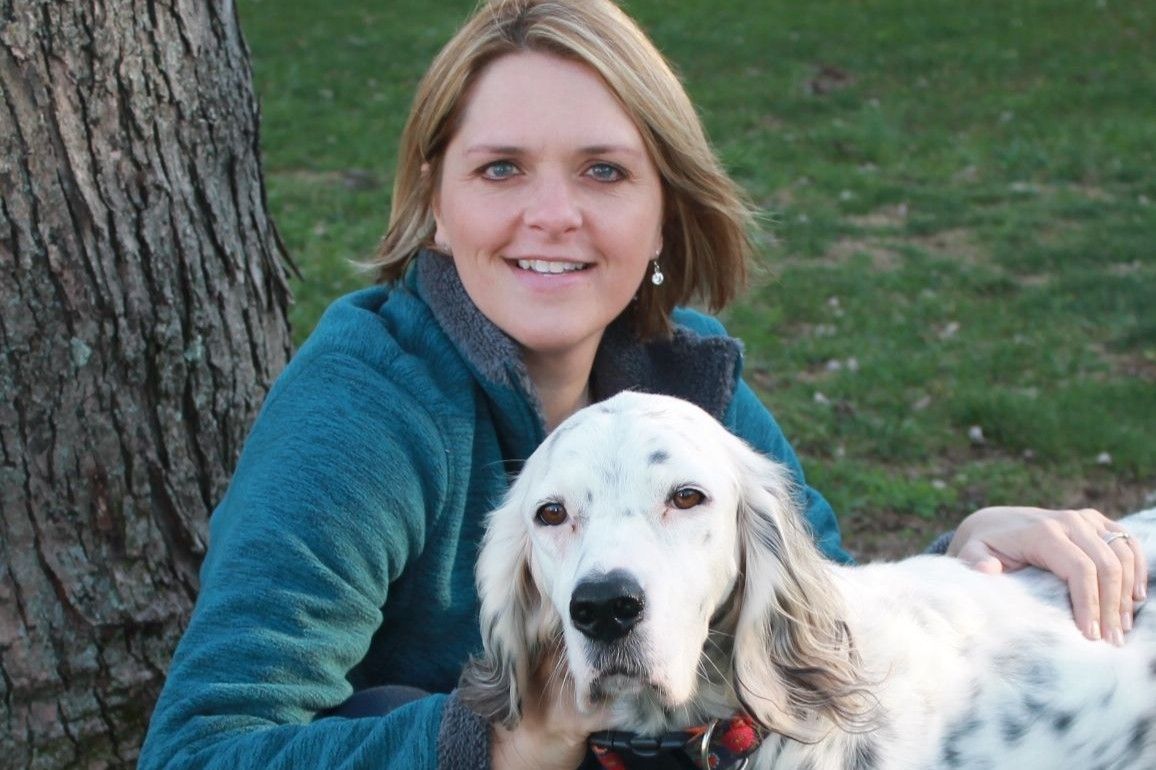 Instructor, LVT, CCRP, NCCMT
Kasey Braun is a Minnesota native. She graduated from Argosy University of Minnesota in 2002 receiving her degree as a licensed veterinary technician (LVT) with extended certifications in wildlife and marine mammal science. Her love for animal rehabilitation was sparked while working for a wildlife rehabilitation sanctuary and Mote Marine Mammal Rehabilitation. She wanted to apply this passion for therapy to companion and working canines, so she continued her education at the University of Tennessee, where she became a Certified Canine Rehabilitation Practitioner (CCRP) in 2007.

In 2014 she began to expand her studies further into canine massage and earned her national certification in canine massage through NBCAAM in 2019. Her love for "hands on therapies" has driven her to teach animal massage for Canis Bodyworks. Kasey is also an instructor for service and working dogs all over Virginia. Throughout her career, Kasey has found her passion to be working with pets and their families through pain management and during the palliative and hospice stages of life. Kasey lives in Northern Virginia with her husband, two children, and her two pups "Gertie" and "Lucy."
Co-Founder, Lead Instructor, NCCMT, NCCAP
Sara May is a graduate of the Chicago School of Canine Massage and has been certified in Canine Massage Therapy since 2011. In 2012, she achieved national certification in canine massage through the National Board of Certification for Animal Acupressure and Massage (NBCAAM). At the same time, she became an instructor at the Chicago School of Canine Massage. She continues to learn and seek educational opportunities to expand her knowledge and experience. In 2016, she earned her national certification in Canine Acupressure, also through NBCAAM. Sara is certified in Pet First Aid and CPR.
As a former college English instructor, Sara is a strong advocate for education. One of the favorite aspects of her work is teaching massage classes to pet parents, shelter staff and volunteers, and prospective therapists. Through education, she believes that the value and importance of canine massage and bodywork can be understood, shared, and appreciated by an ever-increasing audience.
Sara has a private practice in northern Virginia and works part-time as a canine massage therapist and acupressure practitioner at Wholistic Paws Veterinary Services in Ashburn, VA. She lives in Berryville, VA with her husband Terry.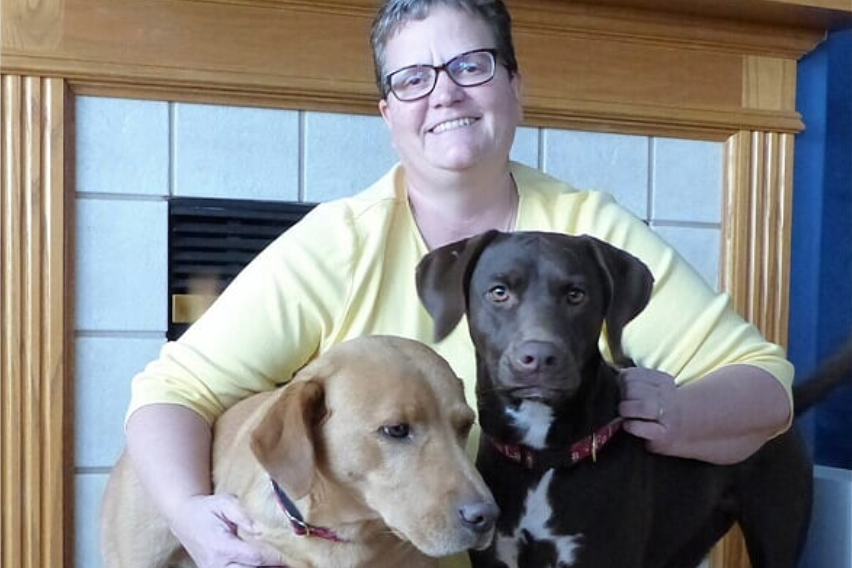 Instructor, NCCMT, RP
Sue has always had a love for dogs, but it was one in particular that pushed her towards learning about the health benefits of canine massage. Spencer was her 13 year old Lab/Shepherd mix that passed away from osteo-sarcoma. She felt there was more she could have done for him, so her quest began. Sue signed up for, and completed, the Level 1 and Level 2 classes while working a 50+ hour a week corporate insurance job. Needless to say, she has left the "Corporate World" and is enjoying her Quest.
Sue is a 2015 graduate of the Chicago School of Canine Massage. Sue also became certified in Pet CPR and First Aid in 2015. She is a Nationally Certified Canine Massage Therapist since January 2016. Sue has also completed the Instructor in Training program with the Chicago School for Canine Massage in 2016, and is a Level 2 Reiki Practitioner.
As her quest continues, Sue has started her own business, About a Dog - Pawsitive Canine Massage in the North Aurora area. She also continues her education in the canine massage world in hopes of spreading calming, comfort and healing to dogs through massage. When not working Sue spends her time with her wife and their dog Maggie.
Instructor, LVT, NCCMT

Robin is a Licensed Veterinary Technician who has been in veterinary medicine for the past 15 years. She has worked in emergency, general, exotic, mixed animal, and specialty practices that include surgery, internal medicine, and oncology.

Wanting to continue exploring the human-animal bond and believing that animals are some of our best teachers, Robin began taking classes with Canis Bodyworks, earning her NCCMT in 2021. She recently opened her own canine massage therapy business, Kindred Animal Massage, in the Richmond, Virginia area where she lives. Robin is also Fear Free Elite Certified.

Through education, she wants to share what she has learned about understanding and communicating with animals. Robin loves seeing the light go on in animal and human eyes when "they get it."

Robin volunteers with several animal rescue groups and shelters. She is a Virginia Officer of Elections and a member of the Virginia Medical Reserve Corps. She and her husband have five children between them and currently share their home with three cats.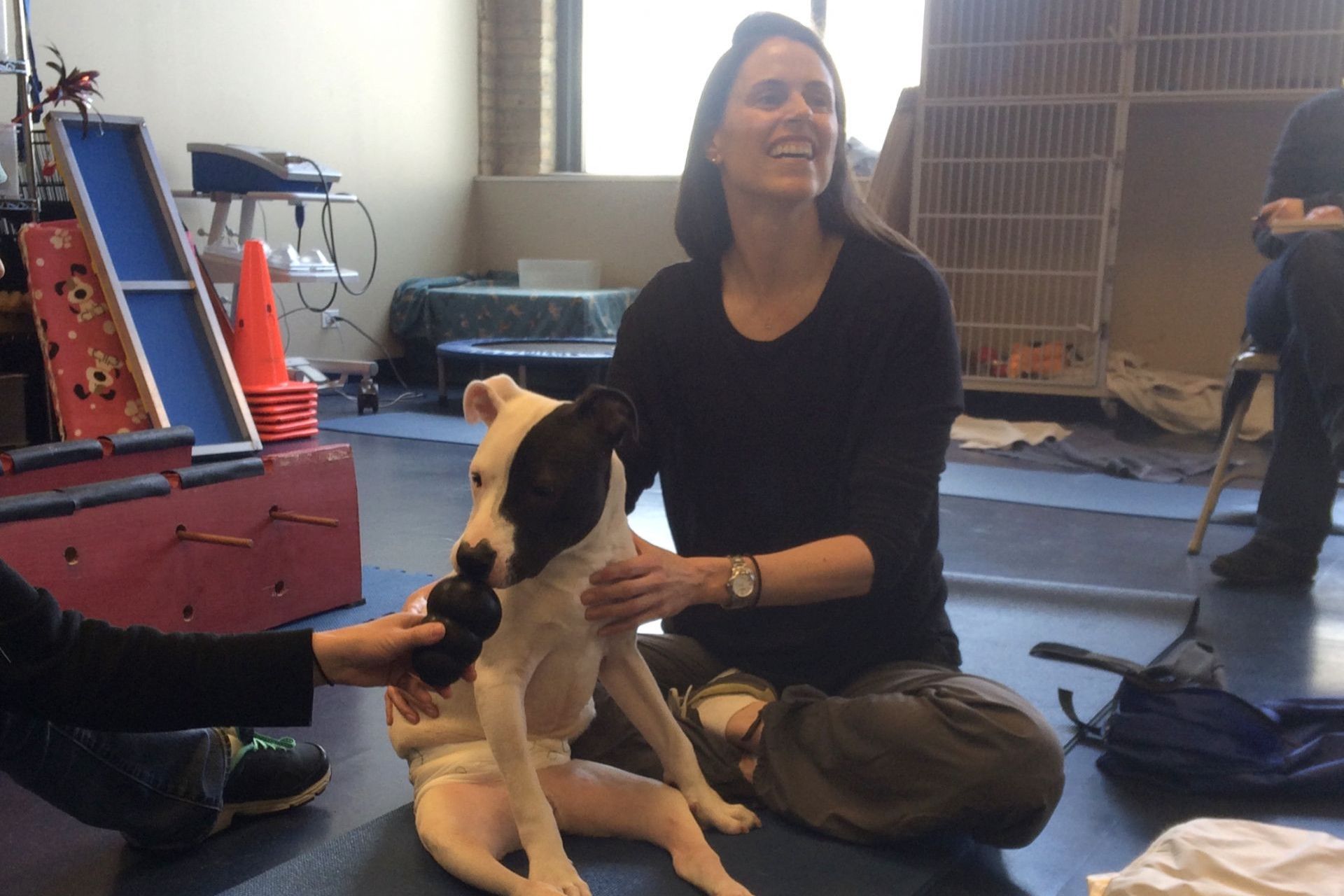 Lead Instructor, DVM | CVA, CCRT, CVSMT
Dr. Ridley is a veterinarian and medical director at Integrative Pet Care in Chicago with 10 years of emergency medical experience. She received her doctorate of veterinary medicine in 2001 from Cornell University. She is a certified canine rehabilitation therapist (CCRT) through the Canine Rehabilitation Institute, a certified veterinary acupuncturist (CVA) through the Chi Institute, and a certified veterinary spinal manipulation therapist (CVSMT) through The Healing Oasis. Dr. Ridley is also the president of the American Association of Rehabilitation Veterinarian (AARV). She has special interest in rehabilitative medicine, geriatric medicine and special needs pets.
Dr. Ridley lives in Chicago with her two cats, Lulu and Lorenzo. In her free time she enjoys travel and dining out in Chicago.
Lead Instructor, NCCMT, CCFT, RP
After spending 20+ years in advertising as an Art Director, Alyson Snelling went after her life-long dream of working with animals. In 2015, Alyson gained her certification in Canine Massage Therapy, Pet CPR and First Aid through the Chicago School of Canine Massage. In 2020, she obtained her certification in Canine Fitness Training through the University of Tennessee. She is Nationally Certified through the National Board of Certification for Animal Acupuncture & Massage (NBCAAM), Fear Free certified, and an attuned Animal and Human Master Level Reiki Practitioner. Alyson has also been involved with several local rescue groups as both a foster parent and volunteer. She is dedicated to continuing to build her knowledge of canine massage, holistic modalities, animal behavior and communication. Her goal as a Canine Massage Therapist is to provide comfort and healing to those in need, and to educate parents on helping maintain a healthy lifestyle for their pets.
Alyson provides canine massage therapy at Back On Track Veterinary Hospital and Rehabilitation Center in O'Fallon, MO, and offers in-home canine massage therapy through her practice Ash & Oak Canine Massage in the Greater St. Louis and Metro East area.
Aside from her love of animals, Alyson is an avid gardener, foodie, and occasional knitter. She lives in St. Louis with her husband Sam and their rescue dogs Ibbie, Bishop, Georgia, and Hugo Bean.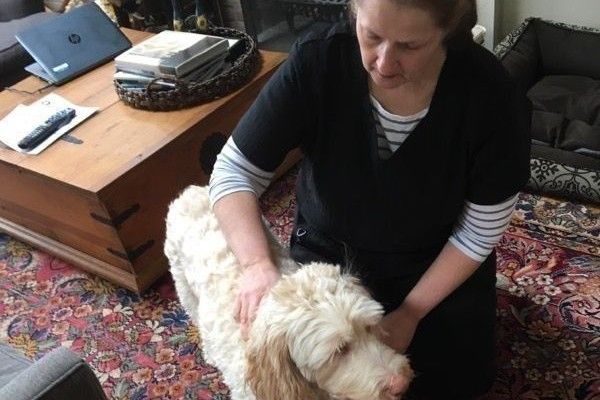 Instructor, NCCMT, TTCP
A graduate of the Chicago School of Canine Massage, the precursor to Canis Bodyworks, Bev has had long experience working with dogs in the Southern Ontario area as an NBCAAM certified Canine Massage Practitioner.
Committed to furthering the support of healthy practices for dogs and their people, she is also a Tellington Ttouch® Guild certified Companion Animal Practitioner, and is close to completing her ACE Trainer certification, as well as holding certificates in Pet CPR and First Aid.
Bev's lifelong career as a professional classical musician, with all the massage, chiropractic, physio and other bodywork required to maintain peak performance levels, has provided particular insight into how beneficial these modalities are for supporting optimum health. This unique understanding of how significantly regular massage can impact the body and overall health, coupled with her understanding of how body discomfort in our canine companions can adversely affect canine behaviour, led Bev to her second career in Canine Massage. Her deep commitment to spreading this knowledge through education led her to join the excellent Canis Bodyworks as an instructor.
Bev is the owner of the new facility Animal Massage and Movement Education Centre, located near Ottawa, Ontario, Canada, and owner of Mobile Canine Massage Care, with practices in the Toronto and Ottawa areas.
Bev lives in Frankville, Ontario with her husband and their dog, Pepper, an Australian Shepherd youngster, who is helping Bev learn all about canine adolescent behaviour.
AMMEC Canis Bodyworks page: https://www.ammec.ca/canis-bodyworks-info
Bev's personal Massage business website: https://www.mobilecaninecare.com/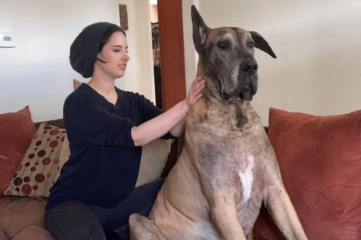 Instructor, NCCMT
After working corporate IT for many years, Shelby wanted to find a way to give back to those who have always been a beacon of love and support in her life: Animals. Inspired by her senior soul dog, Momo, and the rescue animals she would meet, Shelby soon found Canis Bodyworks where she learned the great rewards & benefits that came from canine massage and became determined to bring those benefits to any and all animals she could reach.
Shelby earned her National Certification through the National Board of Certification for Animal Accupressure & Massage (NBCAAM) and later founded her business, Pet Massage Plus, in 2021 where she continues to provide in-home animal massage therapy in Chicago, IL. Ever since, her aim has been to support the health & welfare of all animals.


Shelby has an anti-speciesist approach when providing therapy and has many happy clients including not just dogs but rabbits, roosters, cats, and pigs! Shelby enjoys being a team member of Canis Bodyworks and Chicagoland Pig Rescue where she can continue to reach animal-lovers and grow in her expertise to aid more animals. Shelby loves anything creative, acting, learning, volunteering/fundraising, fostering/rescue assisting, reading comics, gardening, and drinking tea near a sunny window.


"This world has a lot to learn from animals & I want to be their voice - helping to heal their bodies, hearts, & minds." - Shelby
Explore our professional courses now!
Don't lose the opportunity to become happier, more efficient and more effective in your daily professional life
Created with