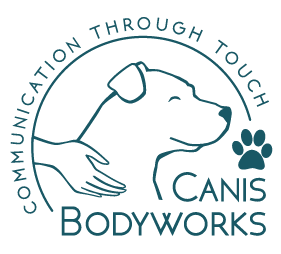 Reserve Your Spot in Class Today
Physical Dog: Workshop
Chicago - October 27-29, 2023
After registering, you'll be able to select your preferred dates.
Empty space, drag to resize
Part 2 of 2
In Part 2 of Physical Dog, you'll take a hands-on approach to solidifying your existing understanding of canine skeletal and muscular anatomy and expanding it even further through practice with live dogs and skeletal models. The next step in understanding musculoskeletal structure happens here, when you'll learn where each muscle attaches to the bones. You'll also explore gait patterns and learn how to recognize movement imbalance and pain. Being able to understand what's "normal," will make it easier to recognize when it's not.
After completing Part 2, you'll receive your certificate of completion for the entire course.
Trust and Relationship-Building with Dogs (Parts 1 & 2), Canine Massage Fundamentals (Parts 1 & 2), and Physical Dog (Part 1) must be completed before you attend Day 1 of this workshop.
CE hours are available for NBCAAM.
3 Days | 24 class Hours - $700
Registration closes 1 week prior to first day of workshop
Where In Chicago?
This Chicago-based workshop takes place at Integrative Pet Care (IPC) in Chicago, Illinois.
Located in between the Logan Square and Bucktown neighborhoods of Chicago, IPC is 25 minutes from O'Hare International Airport and 40 minutes from Midway International Airport.
Other Workshop Locations
Can't make this Chicago workshop?
Check the schedule at our other locations!
Virginia
Empty space, drag to resize
June 23-25 | Nov 17-19
St. Louis
Empty space, drag to resize
August 4-6
Ottawa, Canada
Empty space, drag to resize
June 2-4 | Aug 18-20 | Nov 10-12
Next Step...
Case Study Practicum
Before you take your advanced massage workshops, we highly recommend that you put your new, foundational skills and knowledge into practice with the Case Study Practicum.

Part of the certification program, the Case Study Practicum gives you the opportunity to select four dogs of your choice and work with them for five sessions each. Dogs are our best teachers! You'll get real-world experience providing full massage sessions, which includes pet parent communication, application of appropriate techniques, and correct documentation. You'll have your own Canis Bodyworks mentor to guide and support you along the way.

Once you've completed your Case Study Practicum, you'll be ready for the advanced massage workshops!

Created with