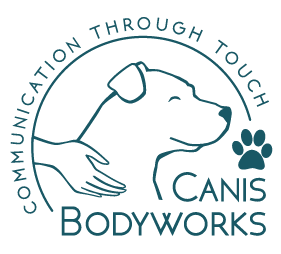 Guided Case Studies for Intensive Learning
Case Study Practicum: Online
Dogs
are o
ur best teachers. Hands-on experience is the most valuable part of any canine massage therapy education and helps the student practice and further strengthen their understanding and application of techniques. We recommend that this home study practicum take place after Canine Massage Fundamentals has been completed because it provides the prospective canine massage practitioner with intensive, hands-on experience in the field while receiving individualized guidance and feedback from a Canis Bodyworks instructor. Participants are required to choose 4 dogs and meet for 5 sessions with each, complete a thorough client intake, and record proper SOAP documentation.
Trust and Relationship-Building with Dogs (Parts 1 & 2) and Canine Massage Fundamentals (Parts 1 & 2) must be completed before you are eligible to take this course.

This course includes approximately 30 hours of activities and experiences.

Course fee is in US Dollars (USD)
4 Modules

Detailed Instructions

8 PDF Downloads

4 Dogs of Your Choosing

Individualized Instructor Guidance & Feedback
Real Life Practice
You'll apply the skills and techniques you've learned up to this point in your studies by using them in real-world situations. You'll practice client intake, trust-building, massage techniques, and documentation.
On-the-Job Training
There's no better way to learn than by doing. Through this intense, hands-on experience, you'll navigate the nuances of working with dogs and their pet parents and learn how to troubleshoot challenging situations in real-time and with support from your instructor.
Welcome to the Case Study Practicum
Next Step...
Choose Your Path
If you didn't take The Physical Dog, Parts 1 & 2 before taking the Case Study Practicum, this is your next step before you move on to the advanced massage technique workshops.

Already completed The Physical Dog, Parts 1 & 2 AND the Case Study Practicum? You're ready for the advanced massage technique workshops - Lymphatic Massage: The Common Denominator and Myofascial Trigger Point Therapy & Orthopedic Friction!

Go to the Class Description page to select your preferred workshop location...
Created with