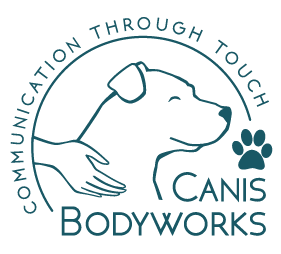 1-on-1 Hands-On Training
Scheduling doesn't always work the way we hope it will. We understand how frustrating and deflating it can feel to not be able to attend a required workshop because of scheduling obstacles. If you find you can't make a weekend workshop you really want to take, or that the posted dates for the Mentorship Program aren't possible because of scheduling conflicts, or if you just want some additional 1-on-1 time with an instructor to review massage techniques and other class content, then this custom training session is for you!

Customize your canine massage learning experience by scheduling 1-on-1 time with a Canis Bodyworks instructor. You can spend the time learning new techniques or reviewing any content of your choice. Your instructor will guide you and provide feedback to meet your specific goals and needs. Training includes instructor follow up by email, phone, or Zoom.


One-on-one training sessions are conducted in either a
4-hour half day
format or an
8-hour full day format
and are currently available in Chicago, IL.

Cost =
$400 per 4-hour half day / $800 per 8-hour full day
(*Cost covers time with an instructor. Additional fees may be required for coursework not already purchased.)
Contact Denise to discuss your learning goals and to schedule your session:
[email protected]
Interested in this opportunity at another Canis Bodyworks location? Let us know by contacting
[email protected]
.
Created with