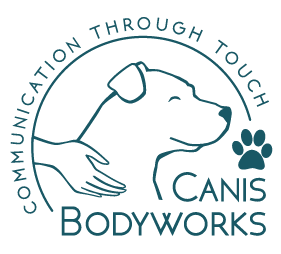 Reserve Your Spot in Class Today
Physical Dog: Workshop
Part 2 of 2
In Part 2 of Physical Dog, you'll take a hands-on approach to solidifying your existing understanding of canine skeletal and muscular anatomy and expanding it even further through practice with live dogs and skeletal models. The next step in understanding musculoskeletal structure happens here, when you'll learn where each muscle attaches to the bones. You'll also explore gait patterns and learn how to recognize movement imbalance and pain. Being able to understand what's "normal," will make it easier to recognize when it's not.
After completing Part 2, you'll receive your certificate of completion for the entire course.
Trust and Relationship-Building with Dogs (Parts 1 & 2), Canine Massage Fundamentals (Parts 1 & 2), and Physical Dog (Part 1) must be completed before you are eligible to take this course.
CE hours are available for NBCAAM.
3 Days | 24 class Hours - $700
Registration closes 1 week prior to Day 1 of each workshop
Course Dates
Chicago 2022
April 8-10
July 22-24
October 7-9
St. Louis 2022
May 13-15
August 12-14


Virginia 2022
April 29-May 1
August 26-28

Ontario, Canada 2022
November 11-13


Next Step...
Your Choice!
Once you've completed The Physical Dog (Parts 1 & 2), the remaining courses for certification can be taken in any order:
Lymphatic Massage: The Common Denominator
Myofascial Trigger Point Therapy & Orthopedic Friction
Canine First Aid Concepts & Pathology
Business of Canine Massage & Bodywork
Find descriptions of each course on the
Courses
page.
Created with