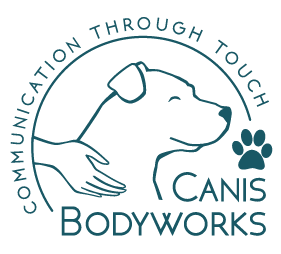 We've written many pages over the years sharing with our readers the seemingly endless physical and emotional benefits of canine massage and bodywork. There's more to come, too, because there's always something to say about how beneficial massage is for dogs and their pet parents. But in this holiday message, we want to spotlight another, sometimes overlooked, recipient of the gift of canine massage. For those of us who actually provide the massage to our canine clients and patients, whether we are professional therapists; professionals in veterinary, behavior, or shelter/rescue environments; animal care volunteers; or knowledgeable pet parents, massage is just as much a gift for us as it is for the dogs in our care.
Massage practitioners regularly tell us how life changing this work has been for them. Each individual who has learned how to provide canine massage and bodywork understands that what we offer is as much a gift for ourselves as it is for the recipient. Just some of the feedback we've heard over the years include the following sentiments:
I feel so relaxed after giving a session to my dog.
I am so energized and in a good mood after seeing clients, even when I start my day in a crappy mood.
I am in a beautiful zone of heart-to-heart energy when working on dogs.
My heart is so full of how I see the dogs respond and enjoy this work.
Giving massages humbles my heart and touches me in emotional ways I never experienced.
This work has given me purpose.
I can't believe how much closer I am to my dog after starting at-home massage.
The improvements in my dog are priceless, making me so happy.
Using this work has made my job so much easier in terms of handling dogs and not seeing them struggle. It doesn't feel like work anymore.
Seeing a dog relax and trust again brings me tears of joy.
As Canis Bodyworks instructors and therapists, we can also attest to the fulfillment and joy that providing canine massage and bodywork bring in our own lives. That's why teaching pet parents and prospective therapists learn this work has been its own gift. It's the gift that never stops giving.
To our readers, pet parents, students, graduates, and fellow practitioners, thank you for the gift and the privilege of sharing this work and helping make the world just a little bit better through the healing power of touch.
Happy holidays with love,
Denise, Alyson, and Sara
Created with