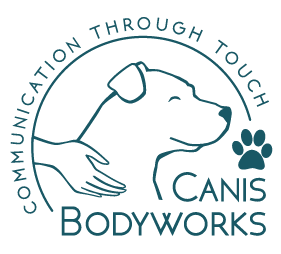 As many know and have experienced, isolation can lead to some deep reflection. Over the past year, I've had ample opportunity to reflect on my decades-long journey into canine massage, bodywork, and veterinary rehabilitation. I've also spent time reflecting on all the ways we have taught this work to the veterinary, shelter, and rescue communities, as well as to pet professionals and pet lovers in general. From the beginning, we at Canis Bodyworks have always believed strongly in our focus on hands-on learning; it's something we take pride in, and we continue to lead the industry in hands-on education.

However, as I reflect and continue to mature, I can see more clearly outside of my narrow lens of possibilities. By doing so, I have learned that not only is the world changing, the way we have to learn is changing. I have always held a strong and stubborn conviction that our work simply cannot be taught online. It must be taught in person.How can you read a dog's body language in real time and in the context of the present environment without being there in the moment? How can you possibly build trust with a dog online? How can you learn how to properly palpate a dog's body, pick up on the subtlety of pain responses, truly understand what asymmetry in muscle tissue and structure look like, and appreciate the many variations of what body tissues can feel like -- hypertonicity, atrophy, inflammation, myofascial trigger points, fascial constrictions, scar tissue, and more – through an online experience? How can you adequately pick up on a dog's energy and understand how to appropriately work with them to achieve an overall relaxation response if you are not present, in the same room as the dog, and alongside an instructor who can offer guidance and feedback in real time? You can't. None of this is possible in an exclusively online learning experience. What I've learned through the years, though, is that online learning has an important role to play. There is much depth to this work. A strong foundation of science-based knowledge, which can be attained through online content, is crucial before engaging in an effective and safe hands-on classroom learning experience.

When the pandemic began, education of all kinds was forced to transition more and more to an exclusively online experience. It seemed like that's what everyone else was doing, so shouldn't we do it, too? But, we resisted, not wanting to go against our principles and fall into a defeatist mentality by putting everything we offer online. Even though our business took a financial hit with months and months of cancelled classes, we knew that we were still on the right path. Our online competitors filled a niche during that time; it's become so easy to jump online and take a canine massage class from the comforts of home. Unfortunately, we find that many of the online courses and programs offer cookie-cutter curriculum that does not adequately prepare students. What's missing is the profound learning that you can only get with a hands-on experience.

Online learning has value, but hands-on learning is essential. So, why not do both? We redesigned our curriculum so that we can deliver a hybrid program that we hope will meet more people's needs while maintaining the quality we insist on. Time will tell, of course, but we believe we have finally achieved the best of both worlds, and we are proud of what we are able to offer to the entire pet care community – the best education possible in the field. We hope you will join us for an amazing future!
Created with