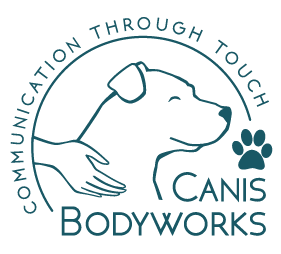 Advanced Technique - Reserve Your Spot In Class Today
Lymphatic Massage - The Common Denominator: Workshop
Every canine massage therapist and veterinary rehabilitation specialist should understand how to effectively use lymphatic massage protocols as they are an essential skill that can benefit dogs in any situation.

In this advanced workshop, participants learn specific lymphatic massage techniques that can be used after deep tissue work to help clear metabolic wastes from the body; after surgery or injury to reduce swelling; and during palliative and hospice care to help sick and convalescing dogs by boosting the immune system and clearing out toxins, which when accumulated can cause nausea, fatigue, and pain.

These techniques are gentle, nuanced, and effective, and the relaxation effects are profound. Lymphatic massage can truly be used in just about every situation and in every session with a dog, making it the common denominator in canine massage.

Course hours include 16 in-class hours and 8 hours for post-workshop assignments: a final exam and targeted case studies.


CE hours are available for RACE and NBCAAM.
Registration closes 1 week prior to Day 1 of each workshop
Course Dates
Chicago 2023
September 23-24
St. Louis 2023
August 5-6


Virginia 2023
In Ashburn, VA at Wholistic Paws Veterinary Services

April 21-22*
(*Veterinary Professionals Only)

October 14-15
Ontario, Canada 2023
November 4-5


Next Step...
Your Choice!
Once you've completed
Lymphatic Massage - The Common Denominator
, the remaining courses for certification can be taken in any order:
Created with